COVID-19 Health Screening App for K-12 Schools
Covid-19 School Screening App. Trusted by hundreds of K-12 schools and districts.
Request Pricing and a Free Demo
Please leave your details and we'll get back to you with more information.
Thank you for getting in touch. We'll get back to you within one business day.
The #1 Rated Covid-19 Health Screening App for Schools & Districts
Screen students and employees daily
Apps for Android, iPhone, Chromebook, or use the web version
Robust reporting and metrics
Automatic daily reminders
Customizable questions
QR codes for quick scanning
Industry-leading security and encryption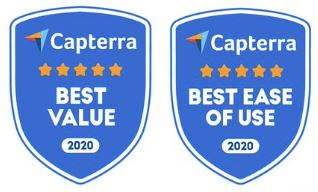 Metrics and Reporting:
Teachers and administrators see who has and has not submitted the survey, and who is not clear to come to school.
Daily, weekly, and monthly reports by class or grade to help identify trends and increased transmission at school.
Nurse receives automatic email report with all COVID-19 data at school.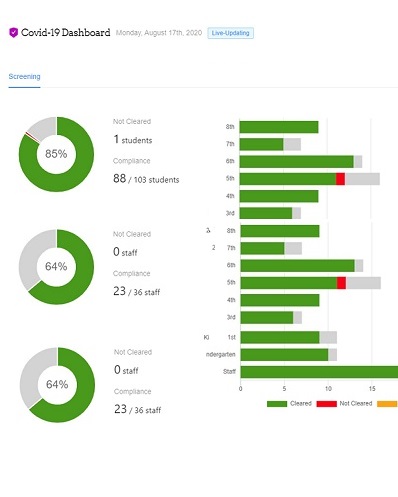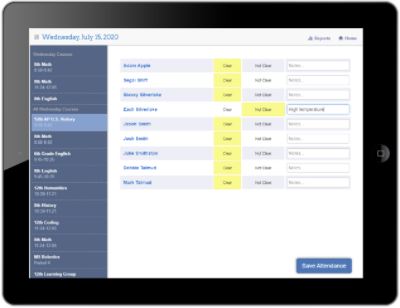 Temperature Checks:
Student and staff temperature checks can be inputted into the system daily.
Clear/not clear temperature data can be viewed in a report to identify trends and increased transmission at school.
Notifications & Alerts:
Email, text message, and phone tree blasts — all on one platform.
Automatic screening reminders to help maximize screening compliance.
Dynamic filters to send emails and texts to non-compliant or non-cleared parents and staff.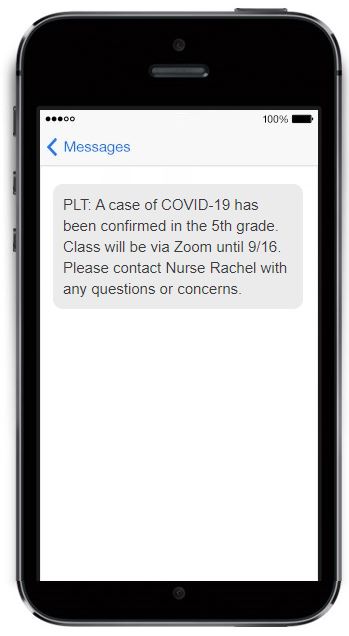 Trusted by 100s of Schools and Districts
We have been using the health screening module on ParentLocker since school started. It has made our check in process so quick and so smooth. It also has kept a lot of students at home with illness who otherwise may have been in school. It is definitely a very simple and easy to use way of adding an extra layer of safety.
- Ryan Oliveira, Pandemic Response Coordinator, Wardlaw + Hartridge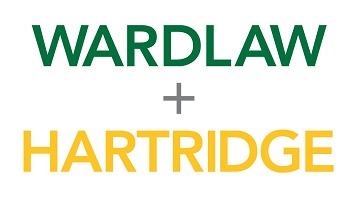 The ParentLocker health screening app has been an incredible gatekeeping tool for our school, allowing us to keep symptoms out and keep our school operating safely in-person. The ParentLocker team responds to all of our questions quickly and works with us to create real solutions for our school.
- Esther Jacob, School Nurse, Torah School of Greater Washington